It's almost time to declare our New Year's resolutions, and if you love books as much as we do, yours will include something about reading. With so many incredible nonfiction titles coming out next year, you'll have no shortage of good choices.
But where should you start, and when? Well, the Next Big Idea Club staff peered into our crystal ball to find 40 forthcoming reads that we're particularly excited about. (Our curators Malcolm Gladwell, Susan Cain, Daniel Pink, and Adam Grant only pick each season's two official selections.) So without further ado, these are the nonfiction books you'll want to watch out for in 2023.
The Half Known Life: In Search of Paradise
By Pico Iyer
Publication Date: January 10, 2023
For almost fifty years Iyer has been roaming the world, mixing a global soul's delight in observing cultures with a pilgrim's readiness to be transformed. In this culminating work, he brings together the outer world and the inner to offer us a surprising, original, often beautiful exploration of how we might come upon paradise in the midst of our very real lives. View on Amazon
Attention Span: Finding Focus and Fighting Distraction
By Gloria Mark
Publication Date: January 10, 2023
While the concept of "flow" has previously been considered the ideal state of focus, Dr. Mark offers a new framework to help explain how our brains function in the digital world: kinetic attention. This book reveals how we can take control, not only to find more success in our careers, but also to find health and wellness in our everyday lives. View on Amazon
The Creative Act: A Way of Being
By Rick Rubin
Publication Date: January 17, 2023
From the legendary music producer, a master at helping people connect with the wellsprings of their creativity, comes a beautifully crafted book many years in the making that offers that same deep wisdom to all of us. View on Amazon
What's Gotten Into You: The Story of Your Body's Atoms, from the Big Bang Through Last Night's Dinner
By Dan Levitt
Publication Date: January 24, 2023
For readers of Bill Bryson, Neil deGrasse Tyson and Siddhartha Mukherjee, a wondrous, wildly ambitious, and vastly entertaining work of popular science that tells the awe-inspiring story of the elements that make up the human body, and how these building blocks of life travelled billions of miles and across billions of years to make us who we are. View on Amazon
Unraveling: What I Learned About Life While Shearing Sheep, Dyeing Wool, and Making the World's Ugliest Sweater
By Peggy Orenstein
Publication Date: January 24, 2023
In this lively, funny memoir, Peggy Orenstein sets out to make a sweater from scratch—shearing, spinning, dyeing wool—and in the process discovers how we find our deepest selves through craft. View on Amazon
Black on Black: On Our Resilience and Brilliance in America
By Daniel Black
Publication Date: January 31, 2023
A piercing collection of essays on racial tension in America and the ongoing fight for visibility, change, and lasting hope. View on Amazon
Untouchable: How Powerful People Get Away with It
By Elie Honig
Publication Date: January 31, 2023
CNN senior legal analyst Elie Honig explores America's two-tier justice system, explaining how the rich, the famous, and the powerful—including, most notoriously, Donald Trump—manipulate the legal system to escape justice and get away with vast misdeeds. View on Amazon
Fool Proof: How Fear of Playing the Sucker Shapes Our Selves and the Social Order―and What We Can Do About It
By Tess Wilkinson-Ryan
Publication Date: February 7, 2023
Facing the fear of being suckered head-on means deciding for ourselves what risks to take, what relationships to invest in, when to share, and when to protest—drafting a new template for how to live with integrity in a sucker's world. View on Amazon
The Climate Book: The Facts and the Solutions
By Greta Thunberg
Publication Date: February 14, 2023
We still have time to change the world. From Greta Thunberg, the world's leading climate activist, comes the essential handbook for making it happen. View on Amazon
The Big Myth: How American Business Taught Us to Loathe Government and Love the Free Market
By Naomi Oreskes and Erik M. Conway
Publication Date: February 21, 2023
The bestselling authors of Merchants of Doubt offer a profound, startling history of one of America's most tenacious—and destructive—false ideas: the myth of the "free market." View on Amazon
Four Battlegrounds: Power in the Age of Artificial Intelligence
By Paul Scharre
Publication Date: February 28, 2023
Engaging and direct, Four Battlegrounds offers a vivid picture of how AI is transforming warfare, global security, and the future of human freedom―and what it will take for democracies to remain at the forefront of the world order. View on Amazon
Madame Restell: The Life, Death, and Resurrection of Old New York's Most Fabulous, Fearless, and Infamous Abortionist
By Jennifer Wright
Publication Date: February 28, 2023
This is the story of one of the boldest women in American history: self-made millionaire, a celebrity in her era, a woman beloved by her patients and despised by the men who wanted to control them. View on Amazon
Psych: The Story of the Human Mind
By Paul Bloom
Publication Date: February 28, 2023
Psych is an expert and passionate guide to the most intimate aspects of our nature, serving up the equivalent of a serious university course while being funny, engaging, and full of memorable anecdotes. View on Amazon
We Are Electric: Inside the 200-Year Hunt for Our Body's Bioelectric Code, and What the Future Holds
By Sally Adee
Publication Date: February 28, 2023
Science journalist Sally Adee breaks open the field of bioelectricity—the electric currents that run through our bodies and every living thing—its misunderstood history, and why new discoveries will lead to new ways around antibiotic resistance, cleared arteries, and new ways to combat cancer. View on Amazon
Drama Free: A Guide to Managing Unhealthy Family Relationships
By Nedra Glover Tawwab
Publication Date: February 28, 2023
Covering topics ranging from the trauma of emotional neglect, to the legacy of addicted or absent parents, to mental health struggles in siblings and other relatives, and more, this clear and compassionate guide will help you take control of your own life—and honor the person you truly are. View on Amazon
Anaximander: And the Birth of Science
By Carlo Rovelli
Publication Date: February 28, 2023
Over two millennia ago, the prescient insights of Anaximander paved the way for cosmology, physics, geography, meteorology, and biology. In this elegant work, the renowned theoretical physicist Carlo Rovelli brings to light the importance of Anaximander's overlooked influence on modern science. View on Amazon
Sensitive: The Hidden Power of the Highly Sensitive Person in a Loud, Fast, Too-Much World
By Jenn Granneman and Andre Sólo
Publication Date: February 28, 2023
A paradigm-shifting look at a long-undervalued yet hugely beneficial personality trait, from the creators of the world's largest community for highly sensitive people. View on Amazon
Without a Doubt: How to Go from Underrated to Unbeatable
By Surbhi Sarna
Publication Date: March 7, 2023
An inspiring take on how to turn others'—and your own—doubt into rocket fuel to achieve your dreams from entrepreneur, CEO, and healthcare investor Surbhi Sarna. View on Amazon
Womb: The Inside Story of Where We All Began
By Leah Hazard
Publication Date: March 7, 2023
A groundbreaking, triumphant investigation of the uterus—from birth to death, in sickness and in health, throughout history and into our possible future—from midwife and acclaimed writer Leah Hazard. View on Amazon
Magic Words: What to Say to Get Your Way
By Jonah Berger
Publication Date: March 7, 2023
New York Times bestselling author Jonah Berger's cutting-edge research reveals how six types of words can increase your impact in every area of life: from persuading others and building stronger relationships, to boosting creativity and motivating teams. View on Amazon
The Transcendent Brain: Spirituality in the Age of Science
By Alan Lightman
Publication Date: March 14, 2023
Drawing on intellectual history and conversations with contemporary scientists, philosophers, and psychologists, Lightman asks a series of thought-provoking questions that illuminate our strange place between the world of particles and forces and the world of complex human experience. View on Amazon
The Real Work: On the Mystery of Mastery
By Adam Gopnik
Publication Date: March 14, 2023
A longtime New Yorker writer apprentices himself to an artist, a dancer, a boxer, and even a driving instructor to investigate a foundational human question: How do we learn―and master―a new skill? View on Amazon
More than a Glitch: Confronting Race, Gender, and Ability Bias in Tech
By Meredith Broussard
Publication Date: March 14, 2023
What if racism, sexism, and ableism aren't just bugs in mostly functional machinery—what if they're coded into the system itself? Meredith Broussard demonstrates in More Than a Glitch how neutrality in tech is a myth—and why algorithms need to be held accountable. View on Amazon
The Teachers: A Year Inside America's Most Vulnerable, Important Profession
By Alexandra Robbins
Publication Date: March 14, 2023
A riveting, must-read, year-in-the-life account of three teachers, combined with reporting that reveals what's really going on behind school doors, by New York Times bestselling author and education expert Alexandra Robbins. View on Amazon
The Undertow: Scenes from a Slow Civil War
By Jeff Charlet
Publication Date: March 21, 2023
Exploring a geography of grief and uncertainty in the midst of plague and rising fascism, The Undertow is a necessary reckoning with our precarious present that brings to light a decade of American failures as well as a vision for American possibility. View on Amazon
Fool Me Once: Scams, Stories, and Secrets from the Trillion-Dollar Fraud Industry
By Kelly Richmond Pope
Publication Date: March 21, 2023
A riveting look at the perpetrators, victims, and whistleblowers behind financial crimes from acclaimed professor and documentarian Kelly Richmond Pope. View on Amazon
Humanly Possible: Seven Hundred Years of Humanist Freethinking, Inquiry, and Hope
By Sarah Bakewell
Publication Date: March 28, 2023
The bestselling author of How to Live and At the Existentialist Café explores seven hundred years of writers, thinkers, scientists, and artists, all trying to understand what it means to be truly human. View on Amazon
If It Sounds Like a Quack…: A Journey to the Fringes of American Medicine
By Matthew Hongoltz-Hetling
Publication Date: April 4, 2023
A bizarre, rollicking trip through the world of fringe medicine, filled with leeches, baking soda IVs, and, according to at least one person, zombies. View on Amazon
Awaken Your Genius: Escape Conformity, Ignite Creativity, and Become Extraordinary
By Ozan Varol
Publication Date: April 11, 2023
From the acclaimed author of Think Like a Rocket Scientist comes a simple guide to unlock your originality and unleash your unique talents. View on Amazon
Once Upon a Prime: The Wondrous Connections Between Mathematics and Literature
By Sarah Hart
Publication Date: April 11, 2023
From sonnets to fairytales to experimental French literature, Professor Hart shows how math and literature are complementary parts of the same quest, to understand human life and our place in the universe. View on Amazon
The Anxious Achiever: Turn Your Biggest Fears into Your Leadership Superpower
By Morra Aarons-Mele
Publication Date: April 11, 2023
Whether you're experiencing anxiety for the first time or have been battling it along with other mental health challenges for years, The Anxious Achiever is the only book you'll need to help turn your stress and worries into a source of strength for you, your career, and your organization. View on Amazon
On the Origin of Time: Stephen Hawking's Final Theory
By Thomas Hertog
Publication Date: April 11, 2023
Stephen Hawking's closest collaborator offers the intellectual superstar's final thoughts on the cosmos—a dramatic revision of the theory he put forward in A Brief History of Time. View on Amazon
The Microstress Effect: How Little Things Pile Up and Create Big Problems—and What to Do about It
By Rob Cross and Karen Dillon
Publication Date: April 18, 2023
Compelling interviews with high achievers who've endured their share of microstress bring to life best practices that show you how to build resilience against microstress, and ultimately how to find purpose in your everyday life. View on Amazon
The Ugly History of Beautiful Things: Essays on Desire and Consumption
By Katy Kelleher
Publication Date: April 25, 2023
Paris Review contributor Katy Kelleher explores our obsession with gorgeous things, unveiling the fraught histories of makeup, flowers, perfume, silk, and other beautiful objects. View on Amazon
Traffic: Genius, Rivalry, and Delusion in the Billion-Dollar Race to Go Viral
By Ben Smith
Publication Date: May 2, 2023
The origin story of the Age of Disinformation: the candid inside tale of two online media rivals, Jonah Peretti of HuffPost and Buzzfeed and Nick Denton of Gawker Media, whose delirious pursuit of attention at scale helped release the dark forces that would overtake the internet and American society. View on Amazon
Anatomy of a Breakthrough: How to Get Unstuck and Thrive When It Matters Most
By Adam Alter
Publication Date: May 16, 2023
A renowned NYU professor shares a groundbreaking guide to breaking free from the thoughts, habits, jobs, relationships, and even business models that prevent us from achieving our full potential. View on Amazon
The West: A New History in Fourteen Lives
By Naoíse Mac Sweeney
Publication Date: May 23, 2023
A prize-winning historian delivers a captivating exploration of how "Western Civilization"—the concept of a single cultural inheritance extending from ancient Greece to modern times—is a powerful figment of our collective imagination. She offers a bold new account of Western history, real and imagined, through the lives of fourteen remarkable individuals. View on Amazon
The Eye of the Storm: The Surreal Lives of the Noble and Notorious in Today's Washington
By Ben Terris
Publication Date: June 6, 2023
Ben Terris presents an inside history of this crucial moment in Washington, reporting from exclusive parties, poker nights, fundraisers, secluded farms outside town, and the halls of Congress. View on Amazon
Data Baby: My Life in a Psychological Experiment
By Susannah Breslin
Publication Date: July 11, 2023
Fearlessly vulnerable, unflinchingly raw, and lyrically written, this groundbreaking book is a remarkable account of a woman's quest to reclaim her voice and an unblinking expose of why we turn out the way we do. View on Amazon
The Perfection Trap: Embracing the Power of Good Enough
By Thomas Curran
Publication Date: August 8, 2023
This illuminating book by an acclaimed professor at the London School of Economics explores how the pursuit of perfection can become a dangerous obsession that leads to burnout and depression—keeping us from achieving our goals. View on Amazon
Download the Next Big Idea App to enjoy "Book Bite" summaries of hundreds of groundbreaking books like these: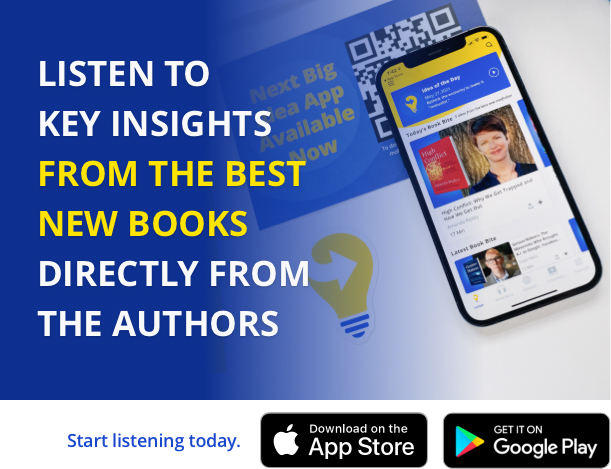 When you buy through our Amazon links, the Next Big Idea Club may earn an affiliate commission.